When if graduated high school, I started out at a Tech school about 30 miles from my home. College life for me wasn't what it was for others. I worked around my school schedule...so if my classes were on M W F..then I worked T and Th 8-5, if my classes were on Tu and Th then I worked M W F 8-5. I guess that's a pretty normal schedule...but throw in the weekend shift at a weaving mill (2 twelve hour shifts on Saturday and Sunday, but you get paid for 36 hours) and dance competitions and that was my schedule. I didn't want to quit dance, because my goal was to be a dance teacher. So I had to pay for dance, my car, costumes and anything else that came along. Plus my brother was in school too...he went off to school... so it was hard for my mom. She was a single mom, and now that we both graduated the same year child support stopped.
Anyway, college, work and dance proved to be too much for me. So I quit and got married. I continued to teach dance on a part time basis for a while, then I got a job teaching that paid a lot more with more hours. So when I was expecting Cam I was working my "real" job at a CPA firm as a bookkeeper from 8-2:30, and teaching dance from 3:30-7:30. Once Cam arrived I quit my "real" job and kept teaching dance. I made more money there anyway.
Right after Cam's first birthday I decided to open my own dance studio and go back to school. I was going to finish up the accounting program. Being a single mom, I couldn't afford daycare so I was trying to do the classes online with a toddler running around the house. That didn't work either, still I felt like a quitter. Three years ago I decided to try again. Lets try one more time to finish up this degree. I shouldn't have that much more to do....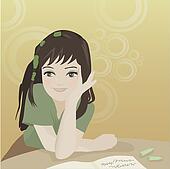 Well I started back to classes in June of 2008, started working where I am now at a CPA firm, and was thinking I can do this. I sat down with an advisor and she told me the classes that I needed to take and it would take me 1 year to complete the courses for my associates degree...and I would be able to transfer to a 4 year school and keep going for my bachelors degree. About half way through I thought...I've taken this class before. Sure enough of the 4 classes that I was in I had taken 3 of them. I was so disappointed. But I had to finish because if I withdrew at that point I would have a lower grade. My grandmother got sick that next semester. So at that point I was working full time, taking a full load of classes and helping to care for my grandmother. The next semester she passed away, again I was taking a full load of classes and her sister fell ill. Again I found myself working full time, taking a full load of classes and taking care of my great aunt. The classes this time were much harder and now I have to retake 2 of them :( very disappointing. After 4 semesters of taking a full load of classes, working and taking care of ill family members I had to quit. I was exhausted. Mentally & physically exhausted and I needed some time with my husband and child.
I went the other day (now that it seems everyone is healthy) to see what I need to do to finish up, this is what i found out....I have another year and a half of classes before finishing my associates degree. The first advisor was wrong, had me in classes that I didn't need...then had me in classes that wasn't required...I'm frustrated to say the least. I waisted a whole year and a half of classes.... I did find out that I can switch my major to nursing, take 4 classes and enter into the nursing program and be completely finished in a year from the time I enter the program in August. I will be an LPN at the completion of the course. The only problem is that the program is so rigorous that it's almost impossible to work during the week while in the program. To make this work it will definitely need to be His plan. He will have to make some things just fall right into place to work it out for me.
I have been feeling the urge to do something in this line since the
accident
. Not long after that accident there was another accident that I witnessed when a man was ran over by a truck, the second guy survived. I started thinking, maybe I should do something where I can help others...I wanted to help so badly but I just didn't know what to do other than call 911.
So I am praying on it. If it is meant to be, then He will make it possible. If you have time, please pray on this with me.
I guess I'm feeling lost because here I am just a couple of weeks before my birthday. I am in a job where I will never make more than I do now, I will never have insurance, never have benefits and there is no growth here. This is as far as I go. When I look for jobs, they don't pay much for college drop outs.... I guess I'm feeling sorry for myself and feeling like a real looser right now :( Don't worry I bounce back quickly..but it really motivates me to do SOMETHING about my situation. I would like to think that at some point in my life I will be financially secure, you know, not sweat thinking how can we make it to Friday (when I get paid). Am I always going to be the receptionist/bookkeeper making well...not much. Seriously, what if something happened to my husband..Cam and I would never survive on my salary alone. Not that I think something will happen, but we are never guaranteed tomorrow.
Well thanks for checking in today and listening to my rambling, and thanks for praying over this with me.